Big Ten Alumni of Atlanta Picnic August 16th
Alumni, friends, and family are invited to join our fellow Big Ten Alumni of Atlanta for the Big Ten Picnic August 16th 11:30 to 5:00.
Big Ten Picnic - ITP!!!

The Big 10 Picnic is held in August of each year. The Picnic is our second largest Big 10 event and great fun for hundreds of alumni, family, and friends. Games for kids and adults, including a waterslide for everyone to keep cool. Adult games include corn hole, flip cup, horseshoes and water balloon toss. Great raffle prizes.
The Big 10 Picnic is back this year, after taking a year off, at a new ITP location.


Who: Big Ten Alumni (family & friends) of Atlanta
When: Saturday, August 16, 2014 11:30 am
Where: Blackburn Park, 3493 Ashford Dunwoody Road NE, City of Brookhaven, GA
>>> Less than 2 miles inside 285 via Ashford Dunwoody Road!!! <<< (one exit east of 400 on 285E)
285E or 285W to the Ashford Dunwoody Road exit
Take Ashford Dunwoody Road South (turning right or left respectively) (heading south inside the Perimeter)
Blackburn Park is directly adjacent to Ashford Dunwoody Road on the left
Food & Drink: Included with purchase of admission ticket
Beer, Soda, Water, etc
Skips Catering:
Boca Veggie Burgers
Skips Bratwurst (sauerkraut and spicy mustard)
Spicy Grilled Chicken Sandwiches
Skip Burgers
Vienna Pure Beef Hot Dogs
Pre-order
your tickets at reduced prices. Tickets will be available at the event at non-reduced prices ($12)
Pre-Order ADULT Tickets Here
$8
Pre-Order CHILD Tickets Here $4

The Illini have been asked to bring Fruit, Veggie or Cheese Platters.

The Atlanta Illini club will provide $75 towards other event costs. We need 2 volunteers - 1 for a survey and 1 to help clean up. Thanks Philip for bringing the cornhole!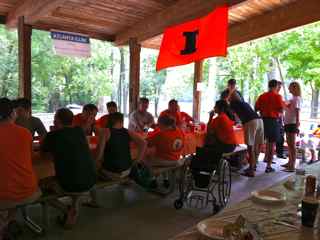 Click for
Pictures
of Illini at Past Big 10 Picnics.
Big 10 Alumni of Atlanta Website:
www.bigtenatlanta.org